Interview Summary
A conversation with David Sutton, co-director of the Staffordshire Thrombosis and Anticoagulation Centre, University Hospitals North Midlands, UK, and Sue Rhodes, venous thromboembolism (VTE) clinical nurse specialist and joint Anticoagulant Lead at Great Western Hospitals, Swindon, UK.
VTE is one of the major causes of morbidity and mortality, and is still a bigger killer than breast cancer, prostate cancer, and road traffic accidents.1 While there has been little change in the number of cases since 2010, treatment options have improved. EMJ talked to thromboembolism experts about VTE extension treatment and its role in preventing recurrence.
HOW DOES VENOUS THROMBOEMBOLISM AFFECT PATIENTS?
VTE, including deep vein thrombosis (DVT) and pulmonary embolism (PE), affects approximately 1–2 in every 1,000 people annually.2 It is a major cause of death and disability in England, with thousands of deaths directly attributed to the condition each year.3 Following a VTE, patients and clinicians face complex decisions about how to manage risk of recurrence over their lifetimes. Sutton and Rhodes explained how decisions relating to risk of recurrence are discussed with patients who have presented with a first episode of VTE.
Sutton challenged a common misconception about VTE: "It's not just an acute event. VTE often has lifelong implications for patients." These implications may include associated health issues such as post-thrombotic syndrome, risk of recurrence, and psychological distress.
The psychological impact of a VTE event can be significant, and is linked both to the event itself, its management, and fear of recurrence. Evidence shows a post-traumatic stress-like response in some patients, especially those who experienced PE.4
Sutton explained how the 'information void' contributes to anxiety in VTE patients: "Patients often don't get the information or follow-up that they need. They're often treated in and out of hospital in the same day," which is helpful from a treatment perspective, but doesn't allow for a longer discussion with the patient about their individual risk of recurrence. They also cautioned against the use of exaggerated or fatalistic language, which elevates patients' concerns. "We get very anxious-looking doctors saying: 'Oh, it's a big clot, we're very worried, we need to scan you straight away.' By default, how we communicate VTE diagnosis to patients could help reduce psychological distress."
MANAGING RISK OF RECURRENCE IN VENOUS THROMBOEMBOLISM
Management of VTE depends on the individual and their unique risk profile. Causation is a good place to start when assessing risk of recurrence. There are many causes of VTE, some of which are classified as 'provoked', such as major surgery, trauma, or cancer; and others as 'unprovoked', with no apparent risk factors. Hospitalisation in general is a known risk factor, while other factors such as age, bodyweight and mobility, and comorbidities may combine to form cumulative risk.5 Whether VTE is provoked or unprovoked has an impact on risk of recurrence.6
"Patients with an unprovoked VTE have a one in 10 risk of recurrence within 1 year of stopping anticoagulants and as high as 50% over 5–10 years, varying based on sex, bodyweight, and other individual factors," said Sutton.
The risk of recurrence in patients with a provoked VTE is much lower. "For patients with major transient provocations such as surgery or a major trauma, recurrence rate after stopping anticoagulants is generally less than 1%," they said.
However, the situation is not black and white. Risk of recurrence is on a scale, depending on the type of VTE event and a person's individual risk factors. Provocations can be major or minor, transient, or persistent (Figure 1).6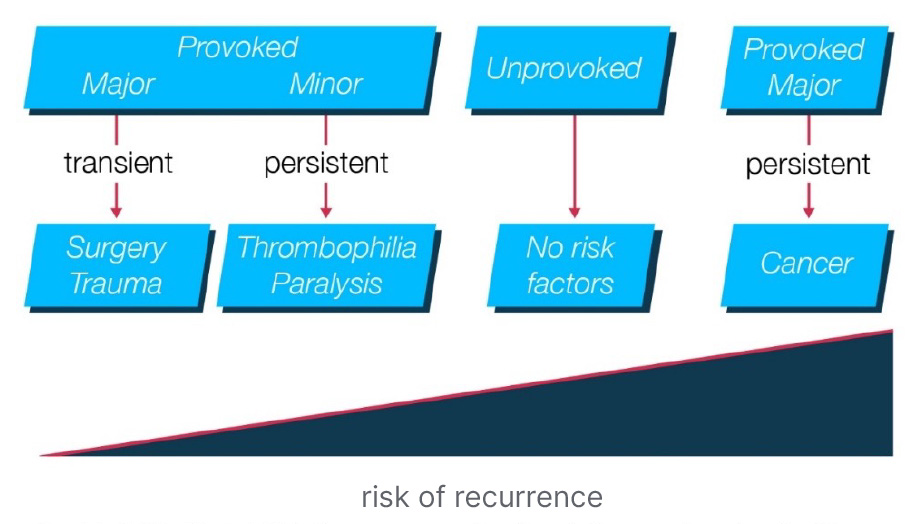 Rhodes added that there is no exact formula for determining risk, which is why individual patient reviews with a thromboembolism specialist are crucial, either in a thrombosis clinic or a specialist anticoagulant clinic. "We start by asking the patient what their symptoms were, whether there was any reason for developing a clot (provoking factors), and if they or an immediate member of their family has had a clot before. Then we try and establish whether the clot was definitely unprovoked, and then work through the patient's individual risk of recurrence before deciding on the length of duration of anticoagulant treatment."
TREATING VENOUS THROMBOEMBOLISM: THE ROLE OF EXTENDED THERAPY
Anticoagulation therapy is the first-line treatment of choice for both the treatment and prevention of VTE, including DVT and/or PE.6 Most patients with VTE provoked by transient risk factors such as surgery or trauma are recommended to receive 3 months of anticoagulant therapy, as their risk of recurrence is low.2 VTE provoked by a major persistent risk factor such as cancer, or those considered to have 'unprovoked' VTE, have a higher risk of recurrence if anticoagulants are stopped. In these patients, extended treatment may be needed.2,7
So, what is extended treatment? "My definition of extended is really anything beyond that initial 3 months of mandated treatment," answered Sutton. Its primary aim is prevention of recurrence in higher risk patients. "The aim is stopping a new clot from developing and that risk can be indefinite, so it needs to be reviewed annually or more frequently,"8 they added. "I avoid the use of the phrase 'lifelong anticoagulation', because this implies no further reviews are needed."
Data show the benefit of extended treatment with reduced doses of direct oral anticoagulants (DOAC). In the EINSTEIN-Extension study, rivaroxaban 20 mg was compared to placebo for an additional 6–12 months, in patients who had completed 6–12 months of treatment for VTE and were in clinical equipoise regarding the need for continued anticoagulation. Rivaroxaban had a non-inferior efficacy with respect to the primary outcome (36 events [2.1%], versus 51 events with enoxaparin–vitamin K antagonist [3.0%]; hazard ratio, 0.68; 95% confidence interval [CI], 0.44 to 1.04; p<0.001)2,9 (Table 1). Four patients in the rivaroxaban group had non-fatal major bleeding (0.7%), versus none in the placebo group (p=0.11).2,9 Meanwhile, in EINSTEIN-Choice, patients who had completed 6–12 months of treatment for VTE and were in clinical equipoise regarding the need for continued anticoagulation, received either rivaroxaban 20 mg or 10 mg, or aspirin 100 mg. Both doses of rivaroxaban showed a significant reduction in VTE recurrence versus aspirin with comparable rates of major bleeding, extending the benefit–risk profile of the treatment beyond the full-dose regimen7 (Table 2).
"EINSTEIN-Choice was useful because it included people with provoked thrombosis who wanted to continue anticoagulant therapy," Sutton said. "It gives some reassurance that these people with a lesser provocation may also benefit from longer-term anticoagulation."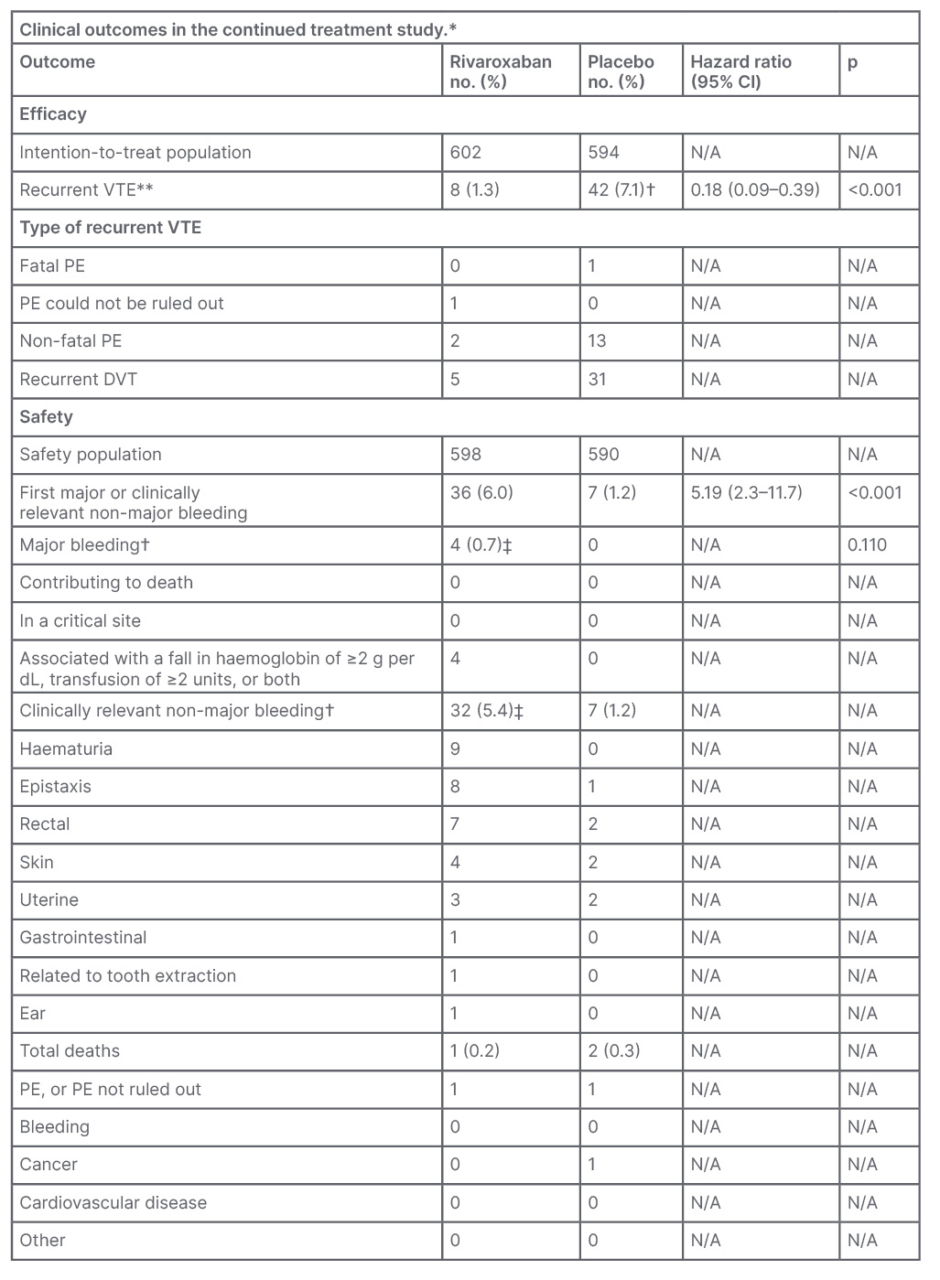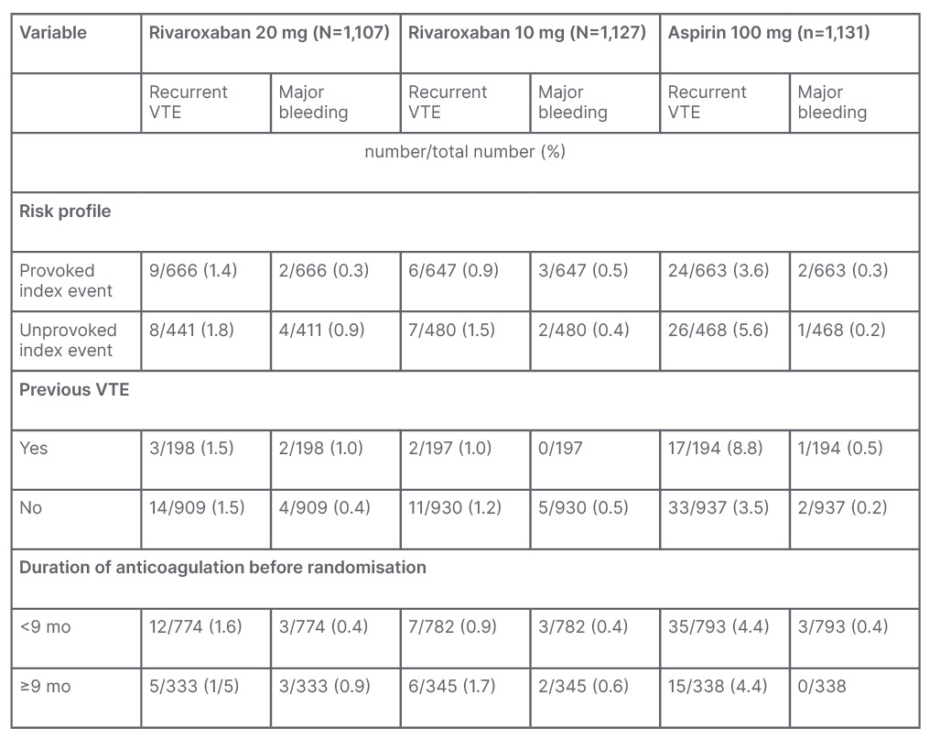 The ability to tailor the dose of anticoagulation based on patients' individual risk factors is another benefit of extended DOAC therapy. "One hat doesn't fit all," said Rhodes, adding that in certain patients, a higher dose of DOAC may be more appropriate. For example, stated Sutton, "patients with obesity or severe post-thrombotic syndrome, and haematology patients with myeloproliferative disorders."
Anticoagulation therapy has come a long way. Rhodes described how having more therapies has improved quality of life for VTE patients. "Having DOACs has been revolutionary, especially for patients who had a DVT or PE in the past, when the only option was low molecular weight heparin and warfarin. The range of DOACs that are available ensures that we are choosing the right intervention for the right patient."
Deciding when to prescribe extended therapy may appear straightforward, but there is a vast grey area. Referring to the risk of recurrence scale, Rhodes said: "On the left you have patients who are low risk, and we would stop their treatment at 3 months. On the right are patients with persistent risk factors, who could benefit from long-term treatment. Many patients fall into the middle 'grey' zone and the best course of treatment depends on which individual risk factors they have."
WEIGHING UP RISK OF RECURRENCE AND RISK OF BLEEDING
While for many patients the benefits of anticoagulation therapy often outweigh the risks,11 for others, the potential adverse effects of extended DOAC treatment incite fear and a reluctance to continue therapy beyond 3 months. "Risk of bleeding is the main worry," said Rhodes, referring to the increased risk of haemorrhage due to hindrance of clotting ability with DOAC use.7
"We have to weigh up that risk of bleeding with the risk posed by recurrence for that individual, but also consider how they feel about those risks,"2,7,10,12 they said, stressing the importance of open dialogue with the patient.
Rhodes said expertise is key. "The conversation with the patient needs to be from someone who manages anticoagulation and venous thromboembolism on a regular basis. You need someone with the confidence to know what they are talking about in terms of explaining individual risk to a patient. It is important that we try to get it right the first time with our explanation, so that the patient feels confident in the decisions made."
Their approach is multi-dimensional. "We include the patient in the decision-making process, as they can be a strong influencer of the treatment. Generally, if a parent or close relative has had a clot before, then the patient is usually keen to stay on anticoagulation and we would not normally decline continuing treatment as long as the patient is aware of the risks. On the flip side of that, if they have experienced a bleed then they are keen to stop anticoagulation. We allow time for the patient to absorb the information relating to their individual risk to help them make the most appropriate decision. We always leave the door open for them to come back and go through things again, and sometimes they may change their minds, but we are always there to support."
"The way I phrase it to patients is that the risk of bleeding with extended duration anticoagulation is comparable to aspirin in the long-term," said Sutton. They also stressed the importance of allowing patients time to think and digest information. "Try not to make the patients feel they are making a lifelong decision in the consultation," they advised.
Sutton added that some elements of bleeding risk may be modifiable if effective follow-up is actioned. "Having an anticoagulant clinical nurse specialist team follow-up, you can pick up the inappropriate aspirin, the selective serotonin reuptake inhibitor without a protein pump inhibitor, all the things you can do to modify risk of bleeding." Rhodes agreed, stating they review patients on an annual basis, sometimes more frequently if renal function is impaired, to ensure it is appropriate to continue with anticoagulation.
"Getting It Right First Time," as Rhodes said, may help to instill good habits in patients, and "counselling patients is really important to good long-term compliance," said Sutton. "If they know why they are taking a drug, know the risks and the risk of recurrence, it improves that longer-term use." However, VTE management outside of the specialist team can be a concern, which may lead to out-of-date treatment protocols or incorrect management. Patients moving between teams, especially during hospital admission and discharge, can be a challenge, and sometimes anticoagulation can be stopped inappropriately with no follow-up in place to ensure it is restarted. "The problem is, there's no good blood test to say it's appropriate to stop anticoagulant therapy, only to indicate risk," said Sutton. Lastly, VTE risk is not static, it changes over time, meaning long-term follow-up with a specialist is vital. "There's always a reason to keep reviewing," said Sutton.
This article was commissioned and funded by Bayer PLC.
Bayer commissioned and funded this educational article. The company has reviewed the data to ensure factual accuracy and compliance with industry guidelines. Some of the information shared in this article is based on the co-authors' experience and knowledge and may not necessarily reflect the views of Bayer.
---
Adverse events should be reported. Reporting forms and information can be found at https://yellowcard.mhra.gov.uk/ or search for MHRA Yellow Card in the Google Play or Apple App Store. Adverse events should also be reported to Bayer plc. Tel.: 0118 206 3500, Fax.: 0118 206 3703, Email:

[email protected]
---
Click here for prescribing information.
Document number: PP-XAR-GB-3059
Date of preparation: March 2023