Buzzing and bustling from day one, this year's European Academy of Allergy and Clinical Immunology (EAACI) Congress, held from the 26th–30th May, was one that will be talked about for months to come. The sun beamed down over this year's host city, Munich, Germany, as attendees flocked from around the world, creating the perfect atmosphere for all to enjoy. The Bavarian capital was a fitting choice for the event, being one of the most research-intensive cities in Germany.
As the EAACI doors opened, members made their way to the Opening Ceremony to delight in the announcements to come. Special attention was paid to the host city, with related highlights from the field of allergy and immunology. Networking was encouraged throughout the event, and the ceremony attendees were invited to introduce themselves to a person they had not met before and get to know them. A distinctive video was created specifically for the ceremony, featuring facts and insights galore, adding a unique twist to this fantastic event.
Munich is home to the largest public park in the world, the Englischer Garten, and the high pollen levels in the city were highlighted in the video. A brand-new pollen indicator was present at the congress, which reads and relays the amount and type of pollen present in the air. This was just one of the pollen indicators that will form a network across Germany, providing those with pollen allergies the information that they need to medically prepare for the day to come. It was also highlighted that, alongside its 3.7 km2 of land, the Englischer Garten features an artificial stream, where individuals, including EAACI Vice-President Prof Carsten Schmidt-Weber, gather with their surfboards to catch the waves.
Attention then moved to Munich's agricultural community, with a vast number of farms being commended for their part in combatting grass allergies. Other allergens were discussed, including air pollution particles, which were reported to alter immune responses. With global events such as the Olympics drawing worldwide attention to air pollution, and the increased use of vehicles across the world, air pollution was a primary focus across the entire EAACI Congress.
Following the video, Prof Schmidt-Weber took to the stage, EAACI surfboard in hand, and the lively scene was set for the event to come.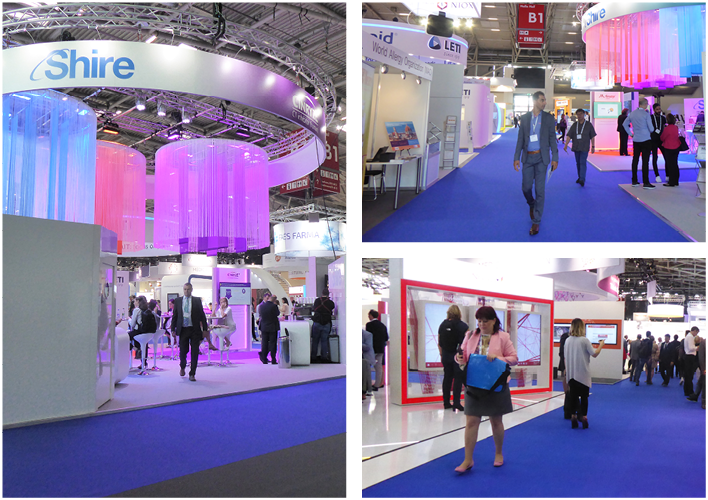 Prof Ioana Agache, President of EAACI, then made her way to the stage to bring joy to the crowd and announce the achievements made over the previous year, including the publication of the EAACI White Paper on Research, Innovation, and Quality Care. She described the EAACI Congress as the "crown jewel" of the EAACI Congress, expressing how proud her and the organisers of the event were that the EAACI Congress was "the largest and most influential allergy, asthma, and clinical immunology meeting in the world."
The focus then shifted to the awards, given to those who have contributed significantly to the development of therapeutic strategies and innovative diagnostic techniques for the control and prevention of allergic diseases. The Daniel Bovet Award for Treatment and Prevention was presented to Prof Gideon Lack (UK), whose research focusses on peanut allergies and prevention of food allergies through the use of oral intolerance induction. Next, the Paul Ehrlich Award for Experimental Research was awarded to Prof Sebastian Johnston (UK). Prof Johnston, who has revealed many insights into the viral aetiology of asthma exacerbations, contributed to the discovery of novel mechanisms in viral infection susceptibility in asthma, and played a lead role in the first ever mouse model of rhinovirus infections and rhinovirus-induced exacerbation of allergic airway inflammation. The Charles Blackley Award for the Promotion of the Allergy Specialty was given to Prof Pascal Demoly (France), who has published >700 articles, research papers, and abstracts that focus on allergen immunotherapy, respiratory diseases, and drug allergy. Prof Demoly has been the driving force behind the implementation of an allergology and clinical immunology medical speciality in his home country of France. Finally, the Clemens von Pirquet Award for Clinical Research was granted to Prof Joaquín Sastre (Spain), for his contributions to the understanding of airway allergies. He has been involved with 400 abstracts at various scientific conferences and published 285 PubMed-indexed articles.
Other announcements made at the Opening Ceremony included the declaration that the EAACI organisation had completed their mission to 'Go green' for the 2018 congress, with the programme only available this year via the EAACI app, removing the old paper version, and with all posters being presented digitally. EAACI TV was released for the first time, providing watchers with a free-to-access method of keeping up-to-date with all the goings-on at the event. As an additional achievement, abstract submissions hit a record high this year, with a total of 1,918 abstracts submitted.
The ceremony concluded with Prof Schmidt-Weber announcing the arrival of the EAACI beer, brewed at his own institute. Attendees were invited to try the flavoursome beverage, alongside different food dishes from across Germany, including a mango curry from Berlin, which highlighted the multicultural hub the central European nation has become.
The night concluded on a networking high, leaving attendees enthusiastic for the days ahead. Mixing tradition and innovation, the event had something for everyone to enjoy: the Clinical Village was alive with attendees testing out clinical techniques, junior members were able to present their research in a variety of formats, plenary sessions provided discussion on the congress' hot topics, and the final day provided an update of all the latest advances in allergology and immunology medicine.
The following Congress Review section will allow you to re-live the most remarkable moments captured at the event, including a selection of abstract reviews written by the respective presenters, straight from the event. Next year's EAACI Congress will be held in Lisbon, Portugal, and we look forward to experiencing the fantastic event once again. We hope to see you there.

'Diesel Gate': Should More be Done to Combat Air Pollution?
ATTENDEES from across the globe were invited to take part in lively debates throughout the EAACI Congress in Munich, Germany that addressed the most pressing concerns for healthcare professionals and patients today. Topics discussed included allergic disease and asthma, with the aim of drawing together the expertise and experiences of healthcare professionals from across the board: allergists, pulmonologists, dermatologists, internists, paediatricians, gastroenterologists, clinical immunologists, primary care physicians, and more.
One such debate, 'The Diesel Gate Affair', focussed on the important topic of air pollution in cities. The Diesel Gate debate began several years ago following the revelation that Volkswagen had cheated in an emissions test. The scandal culminated, most recently, in the banning of heavily polluting cars from inner-city areas of Germany to decrease the levels of harmful pollutants in the air, such as nitric oxide, a move celebrated by environmentalists and medical professionals alike. The rise in allergic disease and asthma in recent years has been linked to the increase in pollutants through work with both animal models and human immune cells; this increase in allergic and asthmatic disease is a burden on healthcare systems around the world. For example, allergic diseases cost an estimated €55–150 billion every year in Europe through employees taking leave due to allergy-related illnesses. The question posed to attendees, as reported in an EAACI press release dated 28th May 2018, was: should more be done to address these issues, or will these steps help to significantly ease the burden of allergic diseases in cities?
Speaking about the session, EMJ Allergy & Immunology Editorial Board member Dr Stefan Wöhrl, Floridsdorf Allergy Center (FAZ), Vienna, Austria, commented on the importance of continuing to focus on this topic, since "it was already clear 25 years ago that diesel particles are a really strong driver of allergy, so, although it's not really new, [this session] was my personal highlight. I really appreciated this popular topic being brought to an allergy congress."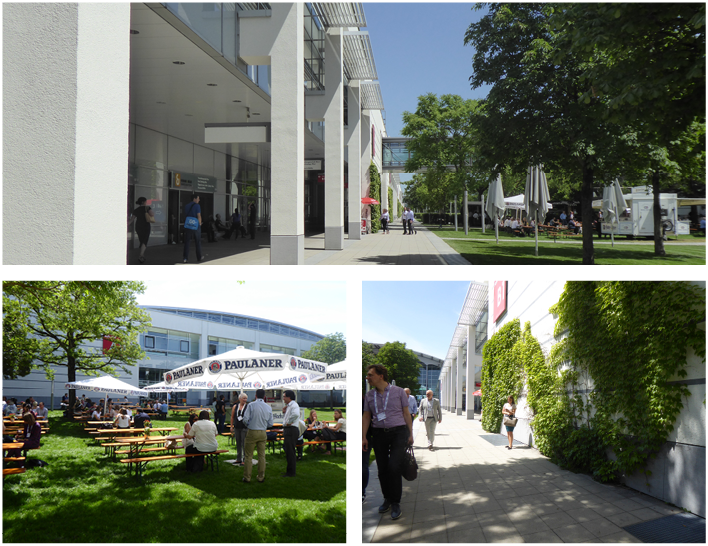 Innovative Pollen Detector Keeps Bavarians One Step Ahead of their Allergies
THOUSANDS of specialists visited Munich, Germany in May 2018 to attend the EAACI Congress, but what many did not realise was that innovation was waiting for them before they even entered the congress centre. A strange device, looking somewhat akin to a spaceship's fuselage, towered >15 feet above the entrance to the congress, with numbers flashing from a digital display at the top. This intriguing structure was revealed during the Opening Ceremony to be a revolutionary form of pollen indicator, displaying online how much and what type of pollen is in the air in real-time.
This device is the first of a network being set up throughout Bavaria, known as the electronic Pollen Information Network (ePIN), which aims to keep those with allergies well informed. The network measures the quantity and intensity of pollen in the air and reports it online, giving allergic individuals the latest key data relating to their condition. "If you are allergic, you want to know how much pollen is there for your medication and in case you need to react. Normally you would never know [how much pollen is in the air]: this [ePIN] makes it visible," explained Prof Jeroen Buters, Zentrum Allergie und Umwelt (ZAUM), Helmholtz Zentrum München and the Technische Universität, München, Germany.
With 1 in 4 Bavarians allergic to pollen, ePIN represents a useful tool for thousands of people during the height of the pollen season. With foreknowledge of the pollen in a certain area, allergic individuals can better manage their condition, avoiding potential hospitalisations because of severe allergic reactions.
The next step is to use this pollen indicating network in conjunction with weather measurements to better predict the levels of pollen on subsequent days, giving a more accurate pollen forecast. Researchers are hopeful that the data gathered could also prove useful for exploring the effects of climate change on pollen levels.
In a light-hearted twist, the large device also doubled as a handy seat for congress delegates. Upon hearing this at the EAACI Opening Ceremony, Prof Carsten Schmidt-Weber, EAACI Vice-President, joked: "I didn't know that people used this €100,000 thing as a seat, but I hope they enjoy sitting on it!"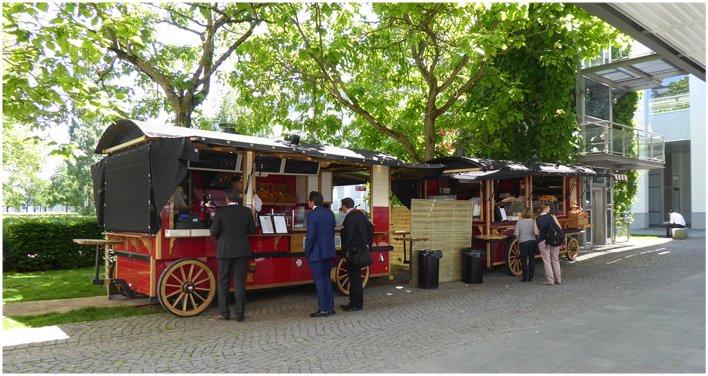 The EAACI Clinical Village
REFERRED to as one of the largest and most influential allergy meetings in the world, the EAACI Congress is known to be unique and thought-provoking. One aspect that makes the EAACI Congress so special is the Clinical Village, which made its way to EAACI 2018 to spread intrigue once again.
The Clinical Village provided EAACI attendees with the opportunity to combine theory with practice, taking part in various clinical allergy diagnosis techniques and practising with equipment for themselves. Though a particularly good opportunity for trainee doctors and clinicians, even the experts were raving about this unique stand, as it provided them with the opportunity to update their own skills and knowledge of the latest techniques in the field.
There was a total of 17 stands included in this year's Clinical Village, each one managed by an expert in a particular technique. These included pollen counts; in vitro diagnosis using the basophil activation test; a mobile health app; ocular allergy; severe drug reactions; patient organisations; modern drug testing; lung function and sports medicine; anaphylaxis-emergency-medicine; skin function testing, including transdermal water loss and corneometry; nasal and food challenges; exhaled nitric oxide management; standardised patch testing; a paediatric allergy school; and photo allergy.
The interactive postgraduate courses at the event were merged with the Clinical Village this year, allowing attendees to gather what they had learned and put the techniques to the test. The Clinical Village really was a fantastic opportunity to learn and develop, and we very much hope that it will make a reappearance at next year's EAACI Congress.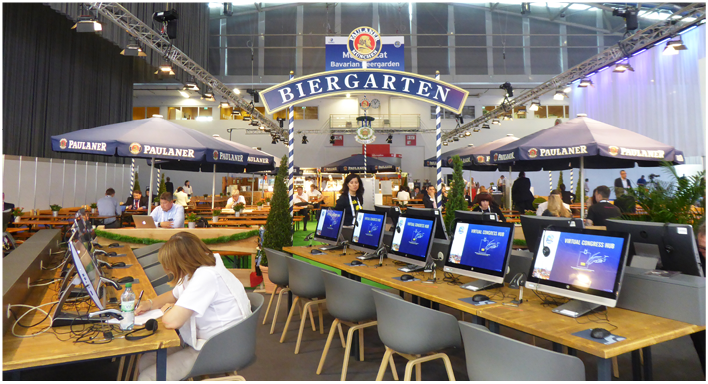 Congress Technology at its Finest
TECHNOLOGICAL solutions were all around at this year's EAACI Congress, providing unmissable scientific updates direct to visitors in a simple, smart, and environmentally friendly way. From e-posters, a Virtual Congress Hub, and the EAACI App, the EAACI experience was fully enriched by technology, as well as greatly enhanced by the novel introduction of EAACI TV. In a field as fast-paced as allergy and immunology, prompt dissemination of the most recent advances is highly important to enhance clinical care and research.
EAACI TV was used to provide near- instantaneous coverage of the top-quality science delivered at the event. As a moderated, continuous, free-to-access broadcast, the introduction of this novel technology brought all participants closer to the congress activities, including key sessions, interviews, and presentations. With such a large and broad programme, it is impossible to attend all sessions, and therefore EAACI TV provided a vital source of coverage to ensure no key sessions or study results were missed. Live-streaming, morning planning, evening recaps, and behind the scenes footage were some of the features of this new technology that benefitted many.
Redefining the EAACI experience, the official EAACI App was also available for all attendees, bringing the congress programme direct to the delegates' fingertips. By allowing attendees to browse the programme, access congress abstracts, and participate in voting polls, the EAACI App was an important resource to complement the event and enhance learning and development. In addition, all 2018 posters and abstracts were shown via digital e-poster stands in a new, environmentally-sustainable format.
At this year's meeting, three EAACI Virtual Congress Hubs were available where delegates could make the most of these digital resources on offer, including access to EAACI TV, the EAACI newsletter, webcasts of selected sessions, and e-posters and abstracts. The combined effect of these technological solutions on delivery of key information was vast and, as well as supporting EAACI's sustainable approach to the planet, enriched the learning experience for many visitors.

Congress Feature
The EAACI 2018 Congress may have closed, but we remember it as if it were only yesterday. We asked our EMJ Allergy & Immunology Editor in Chief, Prof Jacques Bouchard, what his five take-home messages were from this year's fantastic event.
1. Basic Science
It is important, now more than ever, to look at the importance of the fundamentals, genetics, epigenetics, phenotypes, biomarkers, cytokines, and so on, to gain a better understanding of the disease in every aspect and allow physicians to target a more appropriate investigation and treatment course. There are some new concepts emerging and it will be interesting to follow the evolution of these new sciences in the near future.
2. Diagnosis
Making a good allergy diagnosis is now more challenging than ever. Skin tests, blood tests for specific antibodies, molecular allergology, cellular testing, oral and provocative challenge test; from old techniques to the new ones, every test plays a role. However, it should always be in relation to the clinical evaluation, including the patient's history. Some presentations at this year's EAACI Congress showed the positive and negative aspects of these tests.
3. Prevention
The EAACI Congress demonstrated the importance of early allergic prevention in patients with some high-risk factors, especially in children. This prevention could also include early exposure to foods such as cow's milk or peanuts. The preventative methods could minimise the risk of developing allergies to these food types. Allergen avoidance remains the gold standard in terms of preventing allergic reactions. Environmental care is also essential and continues to play an important role in controlling most respiratory allergic diseases.
4. Treatment
Some new treatments, or new methods of treating patients, either for allergy or other related diseases, are available or will become available soon. The use of biologics is growing. Some concepts of allergen immunotherapy and new treatments for severe asthma or hereditary angioedema were widely exposed and discussed. Better understanding of the physiopathology of disease gives clinicians some tools that aid in the adjustment of multiple therapies, focussing on improving the patient's quality of life.
5. Education
Education is well known as playing an important role in every chronic disease. In the allergic and immunologic pathologies, allied healthcare providers are essential to support every patient and their family, in terms of helping the patient to understand their disease and being compliant with their treatment plan, and with regard to what should be done in cases of exacerbation. There are also still some challenges in implementing the guidelines that come from our scientific societies.