BACKGROUND
Psoriasis is a chronic disease associated with high disease burden, and its impact on well-being and health-related quality of life is often underestimated.1,2 On top of well-known skin symptoms, psoriasis can also affect mental health, daily social activities, and work. Most outcome measures used in psoriasis focus primarily on skin symptoms. Although scales such as the Dermatology Life Quality Index (DLQI) may capture some aspects of psoriasis-related impact on health-related quality of life, they do not capture the full experience of people living with psoriasis, and individuals with psoriasis may have different criteria for judging their treatment success. With the advent of highly effective psoriasis medications, there has been a growing interest in the complete clearance of skin symptoms but less attention to what complete 'freedom from disease' means for people with psoriasis.
METHODS
The ongoing study discussed in this abstract review aims to build a unified consensus on the definition of 'freedom from disease' supported by both people with psoriasis and their healthcare providers. This will be achieved using a modified Delphi consensus method involving a consensus panel comprising six people with psoriasis, three nurses, and six dermatologists from different European countries (Figure 1).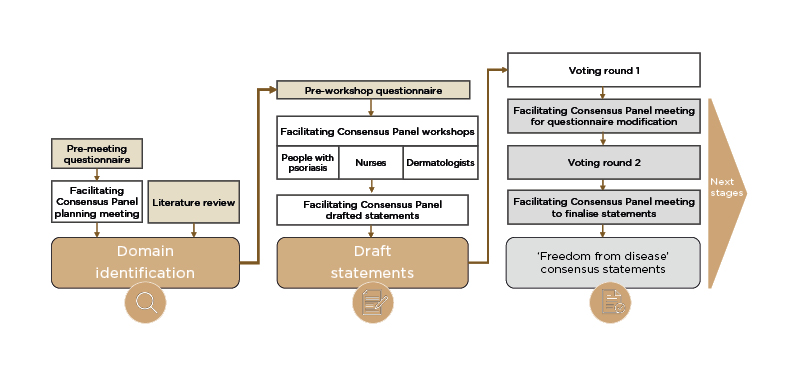 RESULTS
The panel performed a literature review and held a planning meeting to identify the main domains involved in freedom from disease, which were established to be 'management of clinical symptoms', 'psychosocial elements', 'quality of life and well-being', 'treatment', and 'healthcare team support'. Following identification of the main domains, subsequent workshops were held to draft lists of statements representing aspects of each domain. These statements were put forward to a voting group comprising 166 respondents (of which 129 were people with psoriasis) who rated each statement according to its importance to them. Aspects of freedom from disease rated as high-priority in this first voting round included being clear of lesions on visible locations and intimate areas, the possibility to live a normal life, quality of life being independent from psoriasis, a desire to have access to and understanding of effective treatments, and a good relationship with healthcare providers.
In the next stage of the consensus process, the panel will assess the results from the initial voting round, revise the statements, and put the revised statements forward to the voting group for a second round of voting. The results from this final voting round will form the basis for the consensus statement.
CONCLUSION
This Delphi consensus gives people with psoriasis an equal share of voice at every stage of the process, in line with recommendations for people-centred care from the World Health Organization. Once completed, this Delphi process will provide a broad consensus on the meaning of 'freedom from disease', a potential new treatment target supported by both people with psoriasis and their healthcare providers.