BACKGROUND AND AIMS
Diabetes is the leading cause of end-stage kidney disease (ESKD) accounting for 47% of all new ESKD cases in the USA in 2016.1 Once diagnosed with ESKD, the preferred treatment is kidney transplantation.2,3However, mortality remains approximately two- to three-times higher in diabetic versus nondiabetic transplant patients.4-6 Reasons for this difference remain an understudied area of research. Further, few studies have considered the roles the two main types of diabetes (Type 1 and Type 2 diabetes mellitus [T1DM and T2DM]) play in modifying prognosis, despite the different disease aetiologies, age distributions, and comorbidities in T1DM versus T2DM.7,8
Using the United States Renal Data System (USRDS), a national registry of people being treated for ESKD, the authors aimed to: 1) provide contemporary survival estimates among USA adult kidney transplant recipients with T1DM or T2DM, compared to those with nondiabetic causes of ESKD; and 2) determine trends in mortality rates over time compared with the USA general population.
METHODS
Between January 2000 and August 2018, the authors identified 254,188 first-time kidney transplant recipients aged ≥18 years from the USRDS. Diabetes status, as primary cause of ESKD, was defined using the International Classification of Diseases, Ninth Revision, Clinical Modification (ICD-9-CM) and ICD-10-CM codes, as indicated on the Centers for Medicare Services (CMS) 2728 medical evidence form. Data on recipient and donor characteristics, and mortality were obtained from CMS and Organ Procurement and Transplantation Network (OPTN) data. Transplant recipients were followed from their transplant date until 10th Aug 2018 or until their death date, whichever occurred first. Cox proportional hazards regression was used to perform multivariable modelling of survival probabilities and adjusted for recipient (age, sex, race/ethnicity, insurance status, ESKD duration prior to transplant, BMI, history of smoking, comorbidities, organ type, and graft failure) and donor (age, sex, race/ethnicity, donor risk level, and cold ischaemic time) characteristics. Standardised mortality ratios (SMR) compared mortality between the transplant population (by diabetes status) and the year (2000–2017) to the age-matched USA general population. Trends in SMR were assessed using Joinpoint regression, with annual percent change reported.
RESULTS
A total of 72,175 (28.4%) deaths occurred over a median follow-up of 6.3 (interquartile range [IQR]: 2.9–10.5) years. In fully adjusted models, relative mortality risk was highest among people with T1DM (hazard ratio [HR]: 1.94; 95% confidence interval [CI]: 1.87–2.02) and then T2DM (HR: 1.64 (95% CI: 1.61–1.68), compared to nondiabetes. From 2000 to 2017, SMR declined in T1DM, T2DM, and nondiabetes, (Figure 1) but in2017, SMR remained at 2.4 (95% CI: 2.3–2.5), 6.6 (6.1–7.1), 3.8 (3.7–4.0) for nondiabetes, T1DM, and T2DM, respectively.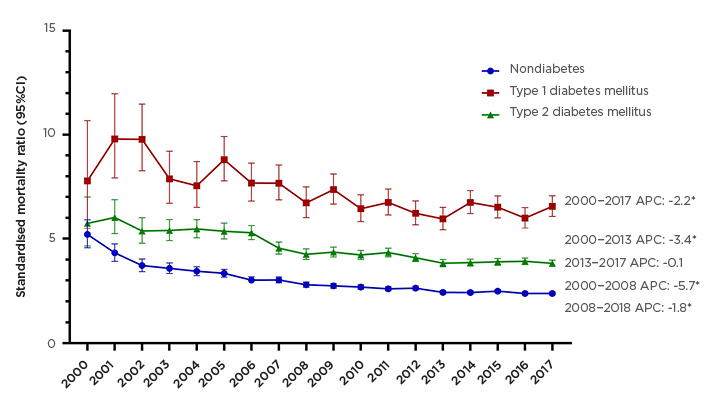 CONCLUSIONS
In this study, it has been shown that people with T1DM- and T2DM-related ESKD have a 94% and 64% increased risk of mortality, respectively, compared with nondiabetes-related ESKD. This excess risk was not explained by differences in age, graft failure, comorbidities, or donor characteristics. In addition, age-standardised mortality rates among transplant recipients was evidenced to have declined since 2000 but remains approximately 2- to 7-fold higher compared to the USA general population, with highest rates among T1DM.
Additional research is needed to identify effective interventions to reduce excess mortality in transplant recipients with diabetes. In the interim, adequate management of glycaemia,9 in parallel with blood pressure control and anticipation of cardiovascular effects of immunosuppression,10 may be effective in reducing mortality in T1DM and T2DM kidney transplant recipients.