INTRODUCTION
The adoption of total mesorectal excision of the rectum (TME) revolutionised surgical treatment of rectal cancer, leading to significant improvement in oncologic outcomes in recent decades. Laparoscopic TME has since proved to be non-inferior to the open technique, while conferring lower morbidity and reducing hospital stay. However, for tumours of the distal third of the rectum, TME still presents significant difficulty due to the anatomy of the pelvis. The advent of transanal surgery has encompassed the innovation of transanal total mesorectal excision (TaTME) in an effort to facilitate complete excision while preserving the desired oncologic results.
AIM
In this study, the authors present an experience with 41 cases of patients with rectal cancer who were subjected to TaTME in the 6th Surgical Department of Hygeia Hospital, Athens, Greece.
METHODS
Between March 2018 and September 2019, 41 patients were subjected to TaTME for rectal cancer (Figure 1). The procedures were performed by a single surgeon and surgical team. The technique consists of transanal dissection of the rectum and mesorectum up to the level of the peritoneal recess. Following this, a laparoscopic left hemicolectomy and diverting ileostomy are performed. Finally, a coloanal handsewn anastomosis is fashioned.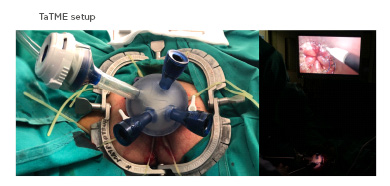 Pathology reports were collected and compared to pathology reports of rectal cancer patients with distal rectal cancer subjected to laparoscopic sphincter-saving transanal specimen extraction operation (TaSE) by the same surgeon and surgical team. Completeness of TME, circumferential resection margin (CRM), and distal resection margin (DRM) were considered.
RESULTS
The TaTME group (n=41) had a complete or nearly complete TME specimen in 92.7% of cases versus 89.6% for the TaSE group (n=48) (Table 1). The CRM was free >1 mm in 87.8% of TaTME cases versus 85.4% of TaSE cases. The DRM was free >2 cm in all cases in both groups (Table 2).


CONCLUSIONS
It appears that TaTME achieves excellent CRM, DRM, and TME specimen quality in patients with distal rectal cancer, and should be considered as an alternative when treating patients in whom TME is expected to be technically challenging trans-abdominally.