Written by James Coker  |  Reporter, European Medical Journal  |  @EMJJamesCoker
During the 13th Congress of the European Crohn's and Colitis Organisation (ECCO), which took place from 14th–17th February 2018 in Vienna, Austria, EMJ spoke to renowned gastroenterologist Dr Corey Siegel, Director of the Inflammatory Bowel Disease (IBD) Center at the Dartmouth-Hitchcock Medical Center, New Hampshire, USA. A particular interest of Dr Siegel is patient centricity in the context of IBD, and this topic formed much of our discussion, both in the context of his work as a clinician and in research.
Doctor–Patient Relationship
Dr Siegel, who was drawn to specialising in IBD during his time at medical school, spoke of the immense pride he gets from improving the lives of patients. "There's nothing better than being an important part of somebody's life," he elucidated. "And it's not even just the making them feel better part; it's helping them realise their dreams and things they want to do to get them well enough so they can go to school, get married, have children, start a career. The continuity of getting to know them and following their lives is immensely satisfying."
Gaining a thorough appreciation of what each patient's goals and desires are is a critical component of care in Dr Siegel's view. He emphasised that he attempts to establish exactly what the main worries an IBD patient has with their condition and the treatment they are going to receive during his very first meeting with them. Linked to this, an aspect of a programme called IBD Qorus1 in the USA, which Dr Siegel has been involved in the creation of, aims to help doctors understand individual patient needs in this way. With this, rather than focussing on the symptoms, the patient completes a pre-visit survey and is instead asked what their number one concern is in regard to their condition's impact on their life. Therefore, the physician is aware of this information at the very start of the appointment and is thus able to respond more effectively and quickly during it.
"Anything we can do to facilitate that conversation and expose the most important things to patients I think will be giving them a much better experience when they come in the office," he explained. "I teach all my trainees that for us doctors sitting in the office all day you might see 15 or 20 patients or more; the next patient is one more patient to see and one small part of your day, week, and year. But for patients who come to the office who have chronic disease and are seeing their doctor that day, it might be the most important thing they've done in the last 6 months, and to really be able to respect that, we need to pay attention to what they want, not just what our agenda is at the visit."
Improved Communication
One of the greatest barriers to individualised patient care is time constraints on physicians, meaning there are pressures to make appointments increasingly brief; this is something Dr Siegel believes is a global problem. However, improving the way physicians break down complex medical information in a way that is comprehendible to patients, thus engaging them fully in the decision-making process, can still be achieved. "We need more work to help translate the results of medical literature, clinical trials, and meta-analyses to patients so that we can use it and they can rely on it," he said.
PROSPECT
This is the basis of the development of decision-making aids that help show patients the importance of a particular treatment and the possible disease progression and complications if the therapy is not taken. Dr Siegel has played a major role in creating such innovations. One of these is the PROSPECT tool,2 which allows physicians to predict Crohn's disease complication rate and displays this information in an easy-to-comprehend graphical format for patients. Dr Siegel explained that this is important because patients are often reluctant to take drugs such as biologicals when their disease is still at a mild stage due to fear of side effects; additionally, doctors are sometimes cautious about overtreating such patients. In response to this issue, PROSPECT uses a series of clinical and serologic tests, blood tests, and genetic markers to predict patients whose disease is likely to complicate very quickly. This method has proven successful in persuading patients who are likely to develop complications very quickly to receive the therapy they require.
"It's not just a statistical model, it's a graphical tool that's been qualitatively built with patient input so that we're presenting it in a way that makes sense to patients and we use it to show patients exactly what their predicted course would be over the next 3 years," explained Dr Siegel. "And we have found that patients are very responsive and often completely change their mind about treatment. Initially they've come to meet us and they're very fearful of the drugs, but when we show them that they are at particularly high risk using the PROSPECT model, they call back and say: 'when can I start the treatment'. Then they're more concerned about their disease than they are about the side effects of drugs."
As well as enabling patients to make a more well-rounded decision about their treatment, Dr Siegel also outlined the beneficial effect the tool has had in enhancing the levels of trust patients have in their physicians, resulting in them being more comfortable with the therapy prescribed and satisfied that their doctor thoroughly communicated the options with them. Dr Siegel and his team are now measuring whether the use of PROSPECT has led to higher rates of adherence. To help with this they also developed a concise video used alongside the tool to explain the importance of maintaining treatment regimens to patients. He is optimistic that the data will show improved adherence rates. See Figure 1 for an example of the graph shown to patients from the PROSPECT tool.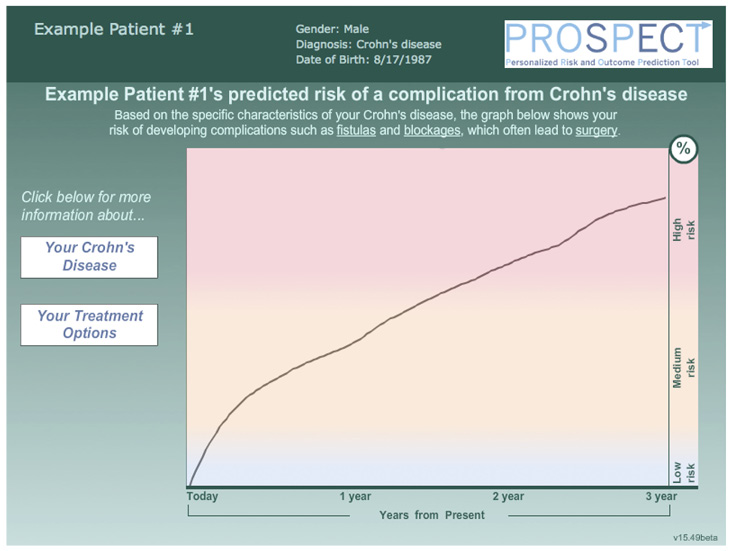 Early Intervention
Ensuring that interventions are made early whilst the disease is still manageable is an area that Dr Siegel continues to try and help facilitate. He is concerned that only a small proportion of patients get prescribed biological therapies, despite their proven effectiveness, and many who do get the drugs receive them when it's too late. Predicting patients most in need as early as possible is therefore essential. "I continue to be interested in this idea of prediction tools and models and I think there's a lot of room for tools like PROSPECT to be developed throughout different aspects of IBD," he commented. "But also something that's really exciting to me is the work that's being done to identify patients even before they have symptoms of IBD and intervene even earlier than after diagnosis. And to me that's a very exciting field that I am starting to learn more about and get involved in and believe there's some really interesting work to be done in, not just from a scientific standpoint but also from a patient and family decision-making standpoint."
Self-Management Technology
The discussion turned to the role of patient self-management devices and the internet in patient-centricity. A major aspect of the IBD Qorus programme is teaching patients to self-manage, for example, by tracking symptoms over time and helping patients understand how their condition can be managed differently. In general, Dr Siegel sees innovative technologies such as mobile apps as a great opportunity to improve care and patient involvement, but cautions that these need to work in conjunction with physicians to fully utilise the benefits provided. Similarly, whilst he views the internet as a positive source of information to help patients manage their disease, he believes great care should be taken when doing so. In particular, he expressed concern about the trend towards promoting non-medical, holistic care on the internet, which sometimes leads to negative connotations associated with pharmacological and surgical therapies, the mainstay of IBD treatment.
Increased Incidence and Severity?
Incidence of IBD has been increasing worldwide, particularly in developing countries.3 This suggests there is an environmental component to this increase, an idea that is attracting a lot of traction among researchers. Anecdotally, Dr Siegel believes that IBD cases are becoming more severe due to a large subset of patients who do not appear to be able to respond to any type of therapy. This is certainly an area worthy of further study.
Hyperbaric Oxygen Therapy
Dr Siegel is also currently involved in the creation of a new treatment method for patients with acute-severe ulcerative colitis.4 This involves the use of hyperbaric oxygen therapy, and a randomised controlled trial presented during last year's ECCO meeting showed that outcomes were improved and colectomy in these patients was prevented. A multicentre trial is now taking place across a number of sites in the USA to further test its efficacy.
Future Outlook
It was a pleasure to interview Dr Siegel and learn about his work in a number of areas, particularly encompassing his passion for increasing patients' involvement in their medical care. We await with great interest to see the results of the continued application of initiatives like PROSPECT and IBD Qorus and how these lessons could be applied to other regions, such as Europe, in the future.
REFERENCES
Crohn's & Colitis Foundation. IBD Qorus: FAQs. Available at: http://www.crohnscolitisfoundation.org/science-and-professionals/ibdqorus/ibd-qorus-faqs.html?referrer=https://www.google.co.uk/. Last accessed: 23 February 2018.
Siegel CA et al. A validated web-based tool to display individualised Crohn's disease predicted outcomes based on clinical, serologic and genetic variables. AP&T. 2016;43(2):262-71.
Ng SC et al. Worldwide incidence and prevalence of inflammatory bowel disease in the 21st century: A systematic review of population-based studies. Lancet. 2017;390(10114):2769-78.
Dulai P et al. Hyperbaric oxygen therapy is safe and effective for hospitalized ulcerative colitis patients suffering from moderate-severe flares: A multi-center, randomized, double-blind, sham-controlled trial. Abstract OP021. 12th Congress of ECCO, 15-18 February, 2017.