TRAINING HEPATOLOGY CARE
The main focus of training hepatology care is to gain skills and enable nurses to specialise in hepatology. Skills and specialisation are gained through six core modules, each requiring 1 day of training.
The six core modules are Viral Hepatitis, Steatohepatitis, Cirrhosis, Liver Transplantation, Hepatocellular Carcinoma, and Rare Liver Diseases. The modules are focussed on improving patient wellbeing, saving money in healthcare, and bringing benefits for physicians and nurses. Achieving these goals relies on already trained nurses. This contribution is one piece of the module Steatohepatitis and its concerns with therapy. Most of the patients benefit if they lose weight or gain physical conditioning with lifestyle changes.1
MOTIVATION AND CONTRACT
A common perception of lifestyle change is that modification of diet or therapy is sufficient; this is an illusion that can jeopardise long-term success.2 With fact-based motivation, we help patients establish self-responsibility.3 The most important part of establishing self-responsibility is to reach the patient's intrinsic motivation. Let the patient define their one soft spot of readiness for change within their different areas of life. The deeper the soft spot lies within the ego, the more likely the changes are to be full-hearted and to endure better in terms of lifestyle. With this patient-driven information, the nurse and the patient define together a contract and sign and date it. The contract is based on the collected soft facts and the patient's willingness to change (Figure 1).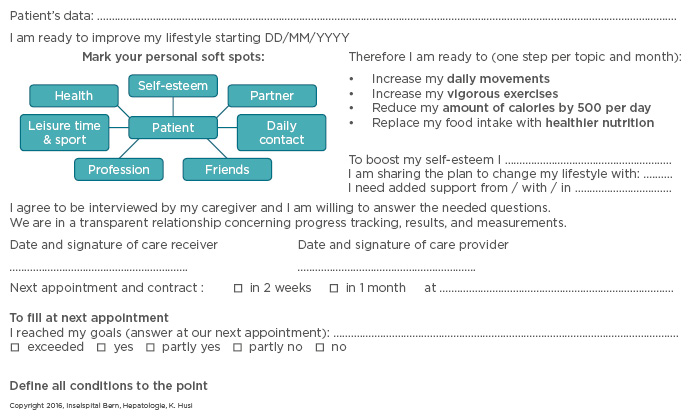 The monthly adjusted lifestyle change contract contains several items:
30% of the contract is focussed on the nutritional change in quantity and quality, e.g. consuming 500 kcal per day fewer
Another 30% focusses on increased moderate movements in daily life and vigorous exercise three times per week (pw) or 6 days pw for 10 minutes each
The final part contains details such as the patient's soft spots, steps towards a better self-esteem, identification and naming of patient's important persons, the promise to progress only one step after another, the promise to take part in recreation 1 day pw, verbal conversations, written down objective measurements, and the change in nutritional quality
NURSE-LED
To accompany the contract, which includes the patient's information and ideas, transparent workflow and data management for institutions, physicians, nurses, and patients is needed. The main care part is completed by nurses, which is more time efficient for patients and physicians, is simpler for patients, and brings job-enrichment to nurses. After the physician's description of lifestyle change therapy, nurses take over the care of the whole procedure.4 If the situation changes and problems emerge, physicians will be involved and give supplemental advice to nurses. It is best to work in a tandem-pattern: nurse and physician together. To release the patient from the contract, measurable values are declared such as questionnaires, lists, workflows, contracts, and evaluations. This allows quality checks and ensures safety.
DEMISSION OF THE PATIENT
Of importance are measurable hard and soft facts before the cessation of a patient's therapy. They must be experienced in the new lifestyle, motivated to move forward, and willing to take over the full responsibility. It is best to also have a questionnaire for quality and outcome control.
CONCLUSION
The idea of bringing such a complex situation to nurses' practical focus is timely. We need a new, transparent, organised workflow to bring back physicians' and nurses' enjoyment of professional competencies, which will lead to a bigger output and best care for patients.