Abstract
Mobile health (mHealth) is the utilisation of mobile technologies in healthcare and has particular relevance in improving lifestyle behaviours which may ultimately reduce cardiovascular disease risk. Various intervention studies for example integrate self-monitoring of diet and physical activity with text messaging systems to improve intermediate outcomes. Currently the future progress of mHealth technologies in formal diagnostic and therapeutic roles is pending and includes the need to validate and standardise accelerometer and heart rate data from various devices. Data also needs to be integrated from such devices into the medical record system to facilitate communication between providers and patients. Although short-term behaviour changes have been found with technologies such as Fitbit® (Fitbit, Inc., San Francisco, California, USA), whether such technologies/interventions lead to sustained behaviour change and reduced risk of myocardial infarction and death remains to be seen.
INTRODUCTION
Cardiovascular disease is the leading cause of death and disability among men and women in the world and the number of deaths per year caused by the disease is expected to rise to 22.2 million by 2030.1 Identification of modifiable risk factors is essential in the prevention of cardiovascular disease. Mobile health (mHealth), the use of mobile computing technologies in healthcare mostly through smartphone applications (apps) and wearable devices, is a rapidly growing field with many apps focussed on cardiovascular disease prevention through behaviour modification.1,2 Most apps focus on three major topics including: dietary management, physical activity promotion, and smoking cessation. The purpose of this review is to examine the current state of mHealth smartphone apps and wearables in the context of improving the cardiovascular behaviours suggested by the American Heart Association's (AHA), 'Life's Simple 7', which are: blood pressure control, cholesterol management, blood sugar management, smoking cessation, weight control, physical activity promotion, and healthy eating.3 All of the Simple 7 are amenable to modification through mHealth interventions by varying degrees; diet, activity, and smoking cessation have an impact on weight, cholesterol, blood sugar management, and blood pressure.2,4-6
We searched PubMed, MEDLINE, Web of Science, and the World Wide Web from inception to January 2016. We selected studies and articles relevant to the topic of mHealth in relation to physical activity, dietary management, and smoking cessation. New trends in mHealth were also evaluated. Studies that did not include smartphones or wristband devices were excluded. This review was restricted to certain validated studies and randomised controlled trials focussed on using new mHealth technologies with a sustainable impact. We focussed on a selection of manuscripts that were considered the highest impact based on the three authors' reviews. The authors undertook an iterative process to screen articles and select papers with the highest impact. Table 1 presents a summary of the selected articles discussed.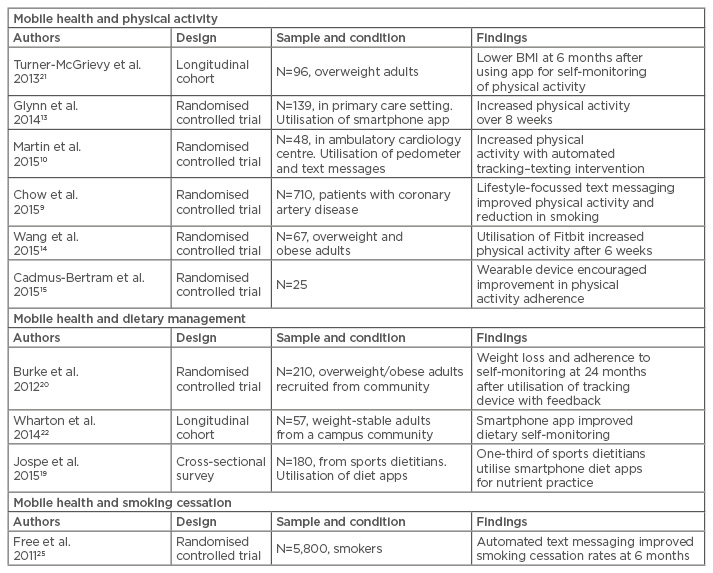 CHANGES IN PREVALENCE OF MOBILE HEALTH TECHNOLOGY USE OVER TIME
Smartphone access and utilisation of health apps are quickly rising. According to the Pew Research Center based in Washington DC, USA, approximately 64% of adults possess a smartphone in the USA and 68% of these access the internet through their devices. An estimated 62% of smartphone owners utilise their phone to access health information and obtain education about diseases and health conditions, while 57% utilise their phone to perform online banking.7 Approximately 100,000 mHealth apps on iTunes® (Apple Inc., Cupertino, California, USA) and Google PlayTM (Google Inc., Mountain View, California, USA) are available, as well as ≥400 wearable activity monitors.8 These figures are expected to further increase as technologies advance.9,10
MOBILE HEALTH INTERVENTIONS TO INCREASE PHYSICAL ACTIVITY
According to a recent study, only half of American adults met the physical activity guidelines promoted by the AHA.1 Physical activity has many benefits in reducing low density lipoprotein cholesterol, blood pressure, and fasting glucose while maintaining weight loss and psychological wellbeing.11 mHealth apps can engage participants to encourage physical activity through reminders and goal-setting. In a recent meta-analysis, pedometers were found to increase physical activity by 27% compared with baseline; pedometer users also experienced slight decreases in BMI (0.4 kg/m2) and 4 mmHg decreases in systolic blood pressure. These decreases are similar to those seen in studies evaluating blood pressure-lowering drugs.12 Clinical trials use interventions of varying sophistication, ranging from a smartphone app to wristband or waistband accelerometers and sophisticated health coaching programmes. An example of a low-resource study was the SMART MOVE trial; a randomised, open label trial of 78 Android™ smartphone users who were assigned to either lifestyle improvement education versus education and smartphone app (Accupedo-Pro Pedometer) which gave automated feedback on daily step counts and facilitated goal-setting. After 8 weeks, those who were assigned to the intervention group (the smartphone app group), walked approximately 1,000 more steps per day than the group who did not receive the app.13 Although the cost was low because it did not involve investment in a separate pedometer, it was limited to smartphone users with the Android operating system. On the other hand, the mActive study was more sophisticated because it provided 42 participants with wristband pedometers (which did not provide step counts) and randomised them to automated smart-texts (versus none) that delivered physician-written, theory-based texts 3-times per day based on 16 personal factors and real-time data to encourage daily physical activity.10 The results were more impressive, with an increase of 3,300 step counts documented in the intervention group versus blinded controls. Overall, it appears that more aggressive, personalised interventions may have a larger effect size on promoting physical activity, although this remains to be proven in a large, adequately powered study.
The introduction of wearable devices such as Fitbit and Apple Watch® provide further opportunities in physical activity tracking and promotion. However, there are limited studies that show the sustainable impact on improving physical activity over time. A study of 67 adults suggested improved physical activity at 6-week follow-up after utilisation of Fitbit device for instant feedback on performance.14 Another trial of postmenopausal overweight women also showed similar findings; those in the intervention group with a Fitbit demonstrated increased physical activity and adherence to their steps goal after a limited period of time.15
DIETARY MANAGEMENT USING MOBILE HEALTH TECHNOLOGIES
Although physical activity can facilitate weight loss, such programmes by themselves have not proven particularly successful at leading to weight loss. A cornerstone of weight management is restriction of caloric consumption; mHealth apps may for example help with this endeavour by providing electronic diaries that facilitate calorie counting with integrated food databases.16,17 Many studies have focussed on the impact of dietary self-monitoring and have found a significant association with weight loss.18
A cross-sectional online survey reported 33% of sport dietitians used diet apps to assess and track dietary intake, and smartphone apps were rated better than traditional assessment methods by 47% of participants.19 The SMART trial presented promising results of weight loss at 24 months by utilising a personal digital assistant with a feedback system focussed on self-monitoring and recording food intake.20 Another randomised study among overweight subjects reported decreased energy consumption in subjects using a dietary monitoring app.21 Weight loss was documented at 8 weeks after monitoring dietary intake through the mobile app 'Lose It' (FitNow, Inc., Boston, Massachusetts, USA) in another small study.22
Current apps may benefit from additional scientific rigour: one study concluded that most apps only included 19% of the 20 behavioural strategies in evidence-based interventions.23 It is unclear if isolated dietary apps or interventions have a sustainable impact on weight loss. Although validation studies are needed, the combination of dietary and physical activity self-monitoring with individualised behavioural modification plans may hold the most promise in not only helping to lose weight, but also sustaining the weight loss.
SMOKING CESSATION
Smoking cessation is another risk reduction behaviour that mHealth strategies have been used to promote.24,25 According to the World Health Organization (WHO), tobacco use is the leading cause of preventable and premature death worldwide. Smoking cessation is associated with reduction in cardiovascular mortality by approximately one-third.11 Smartphone apps have a lower barrier to entry, available at minimal cost to those who already use smartphones, and are preferable for many individuals compared to a smoking cessation hotline.26 Many mHealth studies focus on SMS text-based smoking cessation services with tailored reminders and messages as well as telephone counselling.27 The txt2stop smoking cessation study randomised 5,800 subjects either to a mobile phone smoking cessation programme with motivational messages and behaviour change support or to a control group that received text messages unrelated to quitting. The intervention more than doubled the chance of biochemically-verified continuous abstinence at 6 months in experimental groups compared with control (10.7% versus 4.9%).25 The long-term impact of the intervention however was not studied. Despite the promise of such apps to help the success of smoking cessation with little cost, they rarely adhere to established evidence-based tactics, and therefore may be underachieving.28 A combination of various lifestyle interventions may work together in synergy. Several studies have shown a significant increase in smoking cessation success by adding exercise as an additional intervention. These combination programmes have demonstrated success at ≥1 year.29,30 Other arenas of mHealth integration and synergy include incorporation of social media and wearable devices into tobacco control programmes.31
NEW TRENDS IN MOBILE HEALTH TECHNOLOGIES
The growing field of mHealth creates a platform for innovation and new trends in capturing patient health data, providing new ways to promote healthy lifestyle. Several major technology companies including Apple Inc., Google Inc., and Samsung Group (SAMSUNG, Suwon, South Korea) have integrated new approaches for health activity tracking in the design of their smartphones.32,33 Apple's HealthKitTM platform is a central portal that organises physical activity data from the phone's accelerometer as well as other health information from associated apps, such as various blood pressure monitors and scales. Large scale electronic medical record systems such as Epic and Cerner are also working with Apple to integrate with HealthKit.34 Physical activity quantification is expanding beyond steps; for example, companies like FocusMotion (Focus Ventures, Inc., Los Angeles, California, USA) are expanding the portfolio of activities to include weight lifting and yoga. Heart rate is increasingly being offered on several popular wristband devices to measure performance and caloric consumption although such data have not been validated in peer-reviewed literature. A new paradigm of 'smart clothing' allows for continuous data collection from the chest during work-outs and typically yields more accuracy than wrist-based devices during physical activity in detecting heart rate.
As accelerometers become more versatile and heart rate sensors become increasingly accurate and available, the apps of these data streams also increase beyond fitness into prediction algorithms. To manage such data, companies such as Validic (Motivation Science, Inc., Durham, North Carolina, USA), Human API (Human API, Redwood City, California, USA), and Open mHealth (San Francisco, California, USA) can facilitate the aggregation of cloud-based mHealth data for apps in various analytic models. To further expand the possibilities of such data to improve health outcomes, these services would need to integrate with electronic medical record systems. Patient providers may also benefit.35,36 For example, it may lead to feedback systems which objectively quantify behaviour data from mHealth devices to inform providers how to best treat their patients with a personalised wellness approach.36
THE POTENTIAL TRANSFORMATION OF MOBILE HEALTH FROM CONSUMER GRADE DEVICES TO MEDICAL GRADE INTERVENTIONS
mHealth technologies are increasingly being utilised in translational healthcare research settings, for example to provide early warning signs for seizures by monitoring the autonomic nervous system in real-time.37 This potential however, needs to be matched with infrastructure changes that allow such data to sync with the electronic medical record and healthcare system as a whole.33 This integration will require continued validation of current technologies, standardisation of data outputs, and integration of mHealth data streams into the clinical decision-making processes.38,39
Future research should be aimed at evaluating consumer wearables and smartphones for medical use, given their ubiquity and potential utilisation in the clinical setting.40 It naturally follows that not everyone will have the exact same device or smartphone, therefore future research efforts are needed to standardise the outputs obtained from multiple devices in order to achieve generalisable recommendations for digital health interventions. Ultimately such efforts will help clinician assessments of health and disease, as well as allow them to recommend specific programmes or apps for patients needing lifestyle changes to improve cardiovascular health.
In addition to healthcare integration, more clinical trials are needed to confirm findings from smaller studies at various centres and demonstrate generalisability.25,41-43 In addition to the studies already mentioned, a recent success has been the TEXT ME trial which implemented a simple one-way (no interaction) text-messaging reminder system of individualised messages to motivate certain lifestyle changes based on patient need. The study included 710 patients with coronary heart disease randomised to text messages versus usual care, followed over 6 months, and showed significant reductions in low-density lipoprotein cholesterol and blood pressure.9 While this and other similar studies hold promise, the duration of benefit and translation of outcomes remain in question. Nonetheless, costs are minimal when considering this type of fully automated, one-way intervention, and could be easily integrated into a healthcare framework.
mHealth programmes represent the next wave of biotechnologies after medical devices to benefit from industry and academic partnerships. Such partnerships can help to ensure that validation studies are conducted with appropriate design and validation of hardware against the gold standard. For example, devices such as the Fitbit Charge HR have yet to provide any validation data on the accuracy of their heart rate monitor; as such the heart rate data cannot be used in a medically meaningful way until this occurs.
There are several limitations of this article. It is a narrative review focussed on highlighting the relevant studies discussing the use of mHealth technology in behaviour change and cardiovascular risk reduction. As such, the review is not a comprehensive analysis of all such studies; certain studies that were not deemed high enough impact by the authors were excluded. mHealth technologies and devices are rapidly changing which limits reproducibility and quality control. Novel interventions with clinical impact may, to a certain extent, lose relevance over time as newer smartphones, wristbands, etc. are released and older versions are phased out.
CONCLUSION
mHealth technologies offer promise with regard to the management and prevention of cardiovascular disease via risk factor modification. Various studies have been published to demonstrate efficacy in promoting small but substantial behaviour changes and improvements in health status. Despite this, the potential is scattered amongst myriad consumer-grade devices which do not have validation, and although large-scale buy-in from payers is possible, it has not yet occurred. The next steps include improved analytics, evaluation, and advancement of newer sensors such as heart rate monitors, and larger clinical trials. Private and academic partnerships will be vital to the future of the field, and the potential public health benefit is very large given the ubiquity of such devices in the world.