BACKGROUND AND AIMS
Coronary physiology plays a major role in everyday clinical practice in catheterisation laboratories worldwide.1 Today, coronary flow reserve (CFR) is used to evaluate the microcirculation, but not the haemodynamic significance, of coronary stenosis.2 Fractional flow reserve (FFR) is the gold standard for this purpose, with a cut-off value of 0.8 for intervention.3 Its simplicity, however, limits its predictive value.2 In order to establish the usefulness of CFR in evaluating a coronary stenosis independent of the geometry of each stenosis, a computational fluid dynamic (CFD) study is needed. The aim of this CFD study, therefore, is to estimate the significance of CFR in the evaluation of coronary stenosis, independent of the FFR.
MATERIALS AND METHODS
The authors used a right coronary artery (RCA) from a normal coronary CT angiography in order to build a 3D model of a RCA. A CFD study was performed using ANSYS software for stenosis of 0, 35, 60, and 80%, for both the resting and hyperaemic flows (stimulating the adenosine hyperaemia) (Figure 1). An input coronary flow of 0.5–1 mL/min/g was used. In order to calculate the myocardial mass corresponding to this particular RCA, the total length of all three coronary arteries was calculated and matched to the corresponding myocardium.4 Using a 3D slicer and a myocardial density of 1.08 g/mL,5 the input flow of the specific RCA was calculated. The FFR and CFR were then measured for each case at 6 and 8 cm distal to the stenosis. The stenosis was of concentric morphology in order to stimulate the settings of chronic coronary syndromes. The stenosis location was in the mid RCA and proximal to the right ventricular branch.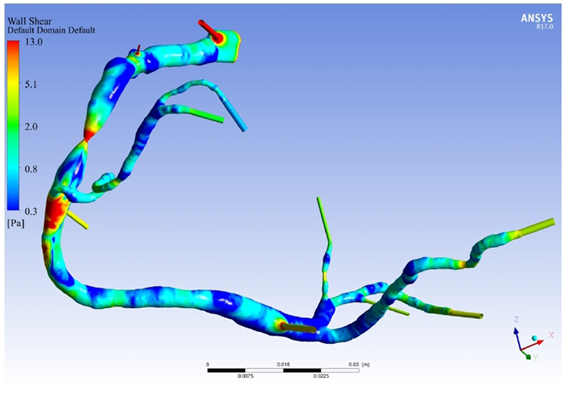 RESULTS
Unstable flow was proven only for severe stenosis and only with a more than 2–fold increase of the resting flow due to hyperaemia. The FFR was 1.00 for 0% stenosis, 1.01 for 35% stenosis, 0.99 for 60% stenosis, and 0.91 for 80% stenosis, where CFR was 4.02, 4.02, 3.89, and 1.90, respectively. In all cases with a stable flow, FFR was within normal range, but CFR was under 2.0 only for severe stenosis (80%). CFR could, therefore, potentially prove the haemodynamic significance of coronary stenosis even when FFR is above 0.80. FFR values were independent of the point of measure; however, CFR showed minor dependence, without major discrepancies between the measurements at 6 and 8 cm.
CONCLUSION
CFR could be used to prove the haemodynamic significance of coronary stenosis even when FFR is above 0.80.