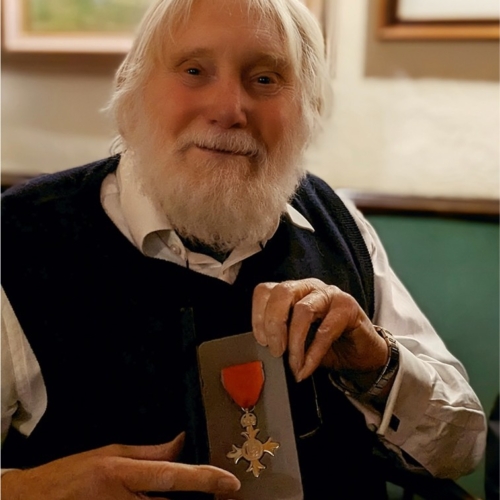 We fondly remember John Mills MBE, a respected opinion leader and patient advocate, who was dedicated to raising awareness and improving care for patients with vasculitis.
Mills qualified with a bachelor's degree in dentistry from the University of Sheffield, UK, in 1966, and achieved a Diploma in general dental practice from the Royal College of Surgeons (RCS) Faculty of General Dental Practice (FGDP) UK in 1994. He worked as a National Health Service (NHS) Dentist for over 40 years.
In April 2001, Mills was diagnosed with granulomatosis with polyangiitis (GPA). Following this diagnosis, he took on various roles, including becoming a member of the British Society of Rheumatology (BSR) and British Health Professionals in Rheumatology (BHPR) guideline panel, Member of the Board of Trustees at the Genetic Alliance UK and Rare Disease UK, and a patient representative for vasculitis for European Organisation for Rare Diseases (EURODIS)-Rare Disease Europe.
In 2009, Mills became the Chair of the Stuart Strange Vasculitis Trust (SSVT), which became Vasculitis UK in 2010. Since then, Mills served as the Vice Chairman and Vice Director of Operations for Vasculitis UK and a Vasculitis Patient Representative for the UK and Ireland Vasculitis Study Group (UKIVAS) and European League Against Rheumatism (EULAR).
His work with Vasculitis UK sought to support vasculitis research across several centres in the UK, and organise funding for the UK vasculitis registry project. In 2023, he was awarded an MBE for services to people with rare diseases in recognition of his role in the growth of Vasculitis UK.
In his role as a patient representative, he contributed significantly to improving both patient and physician education, as well as championing improved patient care and outcomes. Our team had the honour of working with him for an article where he provided expert insights into the patient experience and how vasculitis education could be improved.
Sadly, Mills passed away on Monday 28th August. We at EMJ would like to express our deepest condolences to his family, friends, and colleagues at this difficult time.