BACKGROUND AND AIMS
Brivaracetam (BRV) is the latest approved antiepileptic drug and acts as a synaptic vesicle protein 2A ligand.1 The aim of the present study was to evaluate the efficacy and tolerability of BRV in everyday clinical practice.
METHODS AND MATERIALS
In this retrospective, observational, multicentre study, data from epilepsy patients receiving BRV any time from January 2018 to July 2019 were analysed. Patients aged ≥16 years affected by a variety of epilepsy types and having at least one follow-up (1–6 months) after dose titration were included.
RESULTS
The study included 156 consecutive patients. Patients' demographic characteristics are shown in Table 1. There were 82 males and 74 females. The mean age was 40 years of age (16–84 years), the mean duration of epilepsy was 21 years, and 39% had drug-resistant epilepsy. Of the 156 patients, 81% were diagnosed with focal onset epilepsy, 16% with generalised seizures, and 3% had unclassified seizures. The mean cosponsored drugs with the BRV treatment were 2.28 at baseline. Of the patients, 102 patients were treated with levetiracetam (LEV) in the past, 85 (83%) of whom were treated with LEV at the baseline. Nine patients received BRV as monotherapy as a switching therapy, mainly after LEV.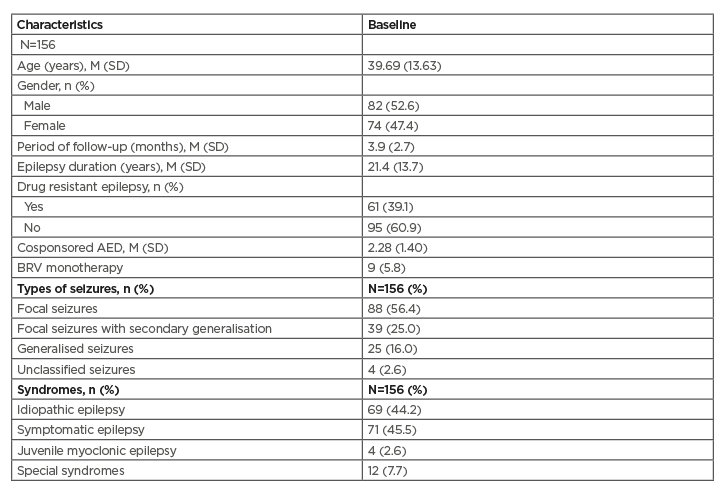 After BRV treatment, the rate of ≥50% response was 36%. Seizure freedom was achieved in 56 (39%) patients, while 15% remained unchanged. Six patients (4%) were recorded with increased seizure frequency, while the remaining 9% had a response less than 50%.
Twenty-six patients (17%) showed clinically significant adverse events, but none were life threatening. Among them, 18 patients had non-behavioural side effects (headache, fatigue, etc.) and eight patients had behavioural changes (such as aggressiveness and depression). Sixteen patients discontinued BRV after the first follow-up. The reasons for discontinuation were lack of efficacy (two patients), adverse events (10 patients), or both (four patients).
CONCLUSION
BRV appears to be an effective, easy to use, and safe antiepileptic drug in the clinical setting.