BACKGROUND AND AIMS
Popularity of the use of botulinum neurotoxin Type A (BoNT/A) is rapidly increasing.1 The production of antibodies (AB) against various parts of this BoNT/A complex can be induced, which is hard to avoid during long-term treatment.2 Some AB can reduce the biological function of BoNT/A (neutralising AB [NAB]), others cannot. NAB first reduce duration of efficacy; later, with increasing titres, complete treatment failure occurs.
The onabotulinumtoxinA (onaBoNT/A; Botox®, Coolock, Ireland) and abobotulinumtoxinA (aboBoNT/A; Dysport®, Ipsen, Paris, France) contain the entire botulinum toxin Type A complex with all its different biologically inactive complex proteins. In contrast, the more recently licensed incobotulinumtoxinA (incoBoNT/A; Xeomin®, Merz Pharma, Frankfurt, Germany) only contains the pure BoNT/A toxin. Therefore, the protein load during treatment with incoBoNT/A is very low, as is its antigenicity.3
During long-term treatment of over 10 years with aboBoNT/A or onaBoNT/A for cervical dystonia (CD), induction of NAB occurs in up to 14% of patients. It has been recommended that BoNT/A therapy should be stopped and deep brain stimulation should be performed when a secondary treatment failure has developed.
This cross-sectional study investigated the effectiveness of switching to incoBoNT/A in patients with CD who were partially resistant under treatment with aboBoNT/A or onaBoNT/A.
METHODS AND MATERIALS
In this study, 50 patients with CD with the development of a progressive, clear-cut partial secondary treatment failure (PSTF) after aboBoNT/A or onaBoNT/A treatment who had been switched to incoBoNT/A years prior were recruited. Blood samples were taken for determination of the presence of NAB using the mouse hemidiaphragm assay and demographic as well as treatment-related data were extracted from the charts. Furthermore, patients had to assess the improvement of CD since the switch to incoBoNT/A.
RESULTS
NAB were detected in 16 (32%) of the patients (AB-pos-group). In 34 (68%) patients, no NAB could be detected by means of the mouse hemidiaphragm assay (AB-neg-group). On the day of the switch, the mean severity of CD (STSUI), measured by the TSUI-score, did not differ significantly between both AB groups. However, the dose of incoBoNT/A that had been chosen years earlier to initiate incoBoNT/A was significantly lower (p<0.023) in the AB-neg- compared to the AB-pos-group. Duration of incoBoNT/A treatment did not differ between both groups (7.3 years in the AB-pos- and 7.8 years in the AB-neg-group) (Table 1).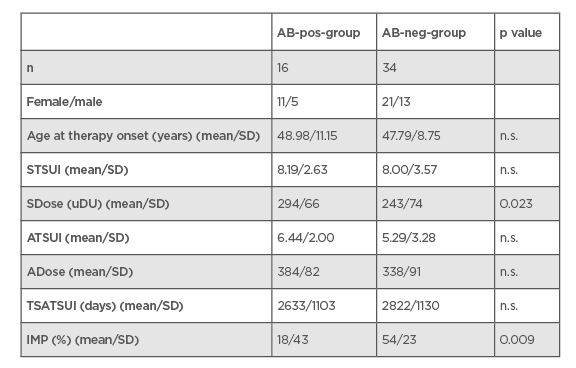 During incoBoNT/A, severity of CD scored by means of the TSUI-score was significantly improved by 21.4% (p<0.05) in the AB-pos- and by 33.9% (p<0.01) in the AB-neg-group ([STSUI minus the TSUI-score at present] divided by STSUI). Dose at switch was significantly increased by 90 mouse units incoBoNT/A in the AB-pos (p<0.05) and by 95 mouse units (p<0.01) in the AB-neg-group. The outcome (TSUI-score at present) between both groups did not differ significantly. However, the patient's global assessment of the treatment effect was significantly better in the AB-neg- compared to the AB-pos-group.
CONCLUSION
In patients with CD and progressive PSTF after abo- or onaBoNT/A therapy, switch to incoBoNT/A can play a prominent role in the level of improvement and should have higher priority over deep brain stimulation in the treatment plan. The improvement observed after the switch to incoBoNT/A is long-lasting with a mean duration of over 7 years, in contrast to the short-lasting improvement observed after the switch to rimabotulinumtoxinB. Furthermore, persistence of NAB after the switch to incoBoNT/A appeared to have a negative influence on long-term outcome in patients with CD and PSTF after abo- or onaBoNT/A treatment.