BACKGROUND AND AIMS
Neuromyelitis optica spectrum disorder (NMOSD) is a severe autoimmune disease characterised by recurrent inflammation of the optic nerve, spinal cord, and/or brain or brainstem.1,2 N-MOmentum was a multi-centre, double-blind, randomised, placebo-controlled Phase II/III study, with an optional open-label period (OLP), of the efficacy and safety of inebilizumab, a humanised anti-CD19 monoclonal antibody, in NMOSD.3 During the randomised controlled period (RCP), inebilizumab showed good tolerability and rates of treatment-emergent adverse events (TEAEs), serious adverse events, and infusion-related reactions (IRRs), similar to placebo.3 The aim is to evaluate the long-term safety of inebilizumab in participants with NMOSD.
MATERIALS AND METHODS
Participants with NMOSD (aged ≥18 years with an Expanded Disability Status Scale [EDSS] score of ≤8 and a recent history of attacks) were randomised 3:1 to inebilizumab or placebo monotherapy in the RCP for 28 weeks or up to attack occurrence, after which they could enter the OLP for a minimum of 2 years. During the OLP, participants received inebilizumab (300 mg intravenous infusion) every 28 weeks for a maximum of 5.5 years. Long-term safety endpoints included TEAEs, adverse events of special interest (including severe and opportunistic infections and IRRs), anti-drug antibodies, and Ig level changes. Participants were grouped into two groups for analysis: 'any inebilizumab' (who received inebilizumab at any point during the study) and 'long-term inebilizumab' (who received inebilizumab for at least 4 years). Data from participants at the end of the RCP were also used for context.
RESULTS
Overall, 165/174 participants (94.8%) randomised to inebilizumab and 51/56 participants (91.1%) randomised to placebo in the RCP entered the OLP, with a total of 225 participants receiving 'any inebilizumab'. Mean treatment duration was 3.2 years (standard deviation: ±1.4 years) and 36.8% of participants were treated for more than 4 years; total inebilizumab exposure was 730.36 person-years. During the OLP, there were three deaths: one due to a severe NMOSD attack, one due to a central nervous system event of unclear aetiology, and one related to COVID-19 after 7,224 and 1,225 days of inebilizumab exposure, respectively.
'Any inebilizumab' participants did not have higher incidences of the most common TEAEs than those found during the RCP (TEAE rate per person-year: 'any inebilizumab', 0.28; RCP inebilizumab, 1.54; RCP placebo, 1.55 Figure 1A). Compared with placebo, inebilizumab did not increase the incidence of adverse events of special interest, including IRRs and opportunistic infections, during the RCP or with multiple dosing in the OLP (Figure 1B).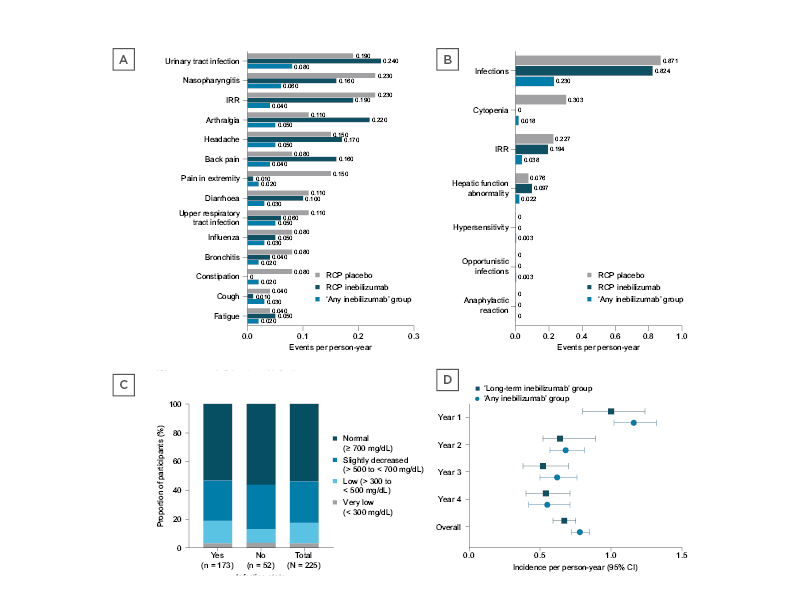 'Any inebilizumab' participants had decreased Ig levels, which were 28.8% lower than baseline with long-term treatment. However, Ig depletion did not increase infection rates. There was no correlation between infection and levels of IgG depletion (Fisher exact test, p>0.05 [hl]Figure 1C[/hl]), and rates of infection in participants from the 'long-term inebilizumab' group were not higher than in the 'any inebilizumab' group (Figure 1D). Moreover, incidence of anti-drug antibody formation remained low during the study and did not increase with inebilizumab treatment or multiple dosing (participants with anti-inebilizumab antibodies: RCP inebilizumab, 2.9% [n=5]; RCP placebo, 7.1% [n=4]; OLP, 6.5% [n=14]).
CONCLUSION
Long-term data from the OLP of N-MOmentum demonstrated that treatment with inebilizumab was generally well tolerated for at least 4 years. No new safety signals were identified and rates of infection or serious infection did not increase with prolonged inebilizumab treatment.