BACKGROUND AND AIM
Penetrating aortic ulcer (PAU) is a typical manifestation of thoracic acute aortic syndrome.1 Nevertheless, selected reports also notify the presentation of PAU in abdominal aorta.2 Moreover, some would say that it is a main cause of spontaneous rupture of non-aneurysmal, non-infected abdominal aortas.1,3 PAU is defined as an atherosclerotic lesion of the aortic wall with ulceration of intimal and medial layers and rupture of the internal elastic lamina. The lesion typically affects elderly patients with systemic atherosclerosis. Due to the comparative rarity of PAU in the abdominal aorta, only single reports regarding single cases are available.4 In this study, the authors analysed their experience of the diagnosis and management of complicated PAU in abdominal aorta.
MATERIALS AND METHODS
Over the last 15 years, the authors observed 48 patients (median age: 61 years; female: n=33) with complete rupture of non-aneurysmal abdominal aorta as a result of PAU. All patients were symptomatic and reported abdominal and/or back pain and of clinical signs of internal bleeding. Thus, aneurysmal rupture was the prime suspicion on admission. The diagnosis was determined by ultrasound and CT angiography.
RESULTS
The radiological findings included typical signs of PAU (the same as signs seen in thoracic aorta) presenting as non-dilatated aorta with strong calcification of the wall, single or multiple crateriform ulcers, and ulcer bottom defect with extravasation (Figure 1). In this area, retroperitoneal haematoma with contrast uptake was detected. In rare cases, if the PAU, and consequently the rupture, is located in the posterior wall of aorta, a temporary restricted (two-stage) rupture without signs of continuing bleeding can be observed. The following histopathological examination confirmed PAU with wall destruction. The majority of patients underwent surgical repair (35 open and nine endovascular). Seven patients died.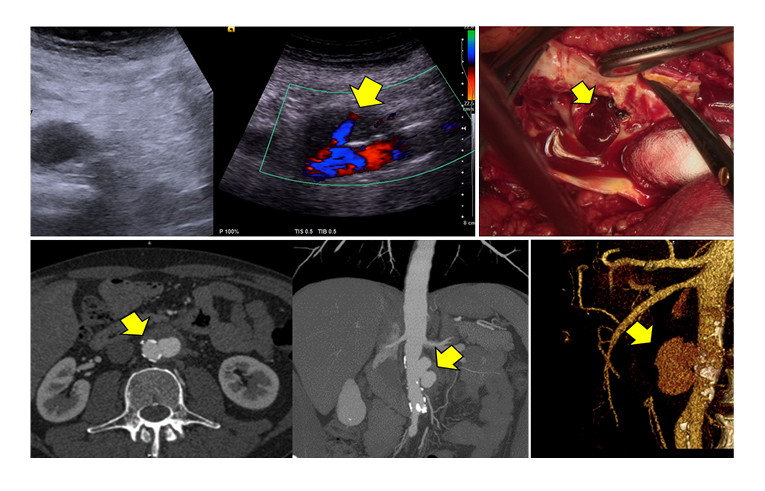 CONCLUSION
The authors' experience indicates that PAU in abdominal aorta and its following non-aneurysmal rupture is relatively rare, but not the cause of aortic emergency conditions. This should be suspected in each case of non-traumatic retroperitoneal bleeding. The diagnostical and tactical approach should be the same as taken in cases of thoracic acute aortic syndrome.