BACKGROUND AND AIMS
There is a higher prevalence of anxiety and depression in patients with chronic diseases. In a complex relationship, chronic diseases and mental health disorders can influence each other negatively.1 Studies have shown that almost one-third of patients with rheumatoid arthritis present symptoms of major depressive disorder or dysthymia, being more prevalent when compared with the general population.2
This study aimed to determine anxiety and depression symptom prevalence in an outpatient rheumatology clinic, and its associated factors.
MATERIALS AND METHODS
The authors conducted a cross-sectional study that included patients aged over 16 years old with a rheumatologic diagnosis. Data from the patients' medical history were collected. The Hospital Anxiety and Depression Scale (HADS) was applied from March–November 2022, where a score of 0–7 points was classified as low risk, 8–10 as intermediate risk, and more than 11 points as high risk. Patients at high risk were referred to an evaluation in the psychiatry department in the same clinic. The researchers compared groups according to HADS scores using the Kruskal–Wallis or χ2 test. A total of 705 patients were involved, including 658 females. The demographic characteristics are outlined in Table 1.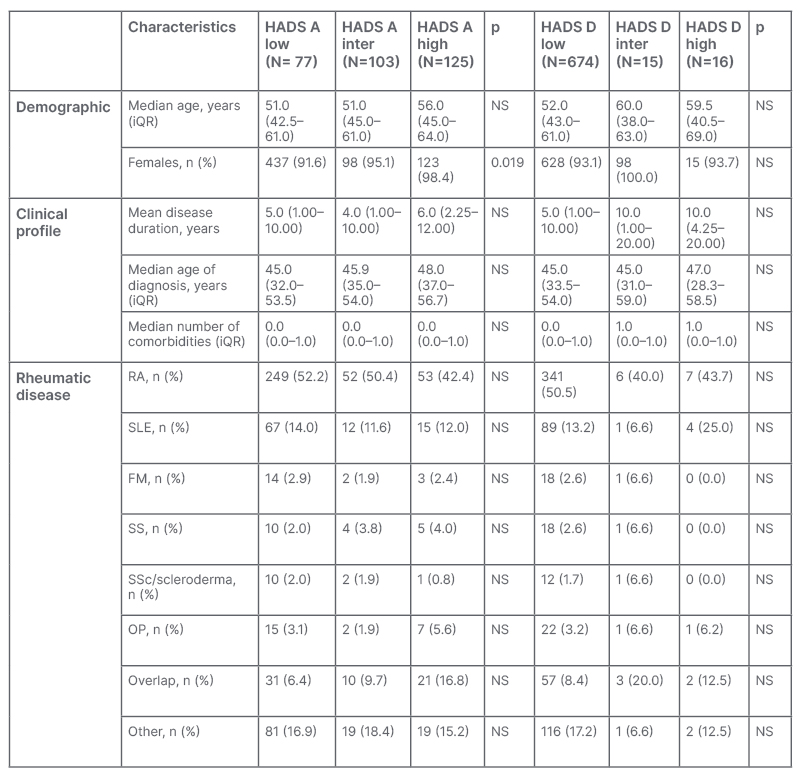 RESULTS
The most common diagnosis was rheumatoid arthritis, followed by systemic lupus erythematosus. High anxiety risk was found in 125 patients with a median disease duration of 10 years. An intermediate risk of depression was identified in 15 patients with a median disease duration of 10 years. The authors found 38 patients who were accepted to be referred for a psychiatric evaluation. An association was found between a high risk of anxiety and gender (p=0.019); however, there was no association with age nor menopause. A high risk of anxiety was more prevalent (n=125) than depression (n=16), and patients with an intermediate risk for depression showed a higher prevalence of intermediate and high risk for anxiety (p=0.000). Almost one in every five patients with rheumatic diseases had an intermediate risk for anxiety.
CONCLUSION
The authors found that a high risk of anxiety was more prevalent than depression, and a higher risk of anxiety was found in female patients. Therefore, constant mental health screening can help patients receive earlier attention by a specialist.