BACKGROUND AND AIMS
Atrial fibrillation (AF) and congestive heart failure coexist frequently,1 and ablation is increasingly utilised as a safe and effective treatment modality for achieving sinus rhythm in patients with heart failure.2,3 While other studies have examined risk factors for post-ablation readmission, rates of hospital readmission after catheter ablation for AF among patients with an established diagnosis of heart failure is still largely unknown.4 In this study, the authors aimed to assess the causes and rates of 30-day readmission among patients with heart failure undergoing catheter ablation, compared to medical therapy for AF in the USA.
MATERIALS AND METHODS
The authors utilised the 2016 Nationwide Readmissions Database (NRD) to screen patients with a diagnosis of heart failure and AF using the 10th Revision of International Classification of Disease (ICD-10) codes. Index admission was defined as hospital admission for management of either heart failure or AF.
Patients who subsequently underwent catheter ablation for AF were grouped separately from those treated medically for AF. Patients who died during the 30 days following discharge, those who were admitted for heart failure or AF management prior to the index admission, and those who had a prior admission for any reason within 30 days of index admission, were all excluded. Thirty-day readmissions were assessed for both the ablation and medical therapy only groups.
RESULTS
The 2016 NRD was screened for all admissions with a diagnosis of heart failure and AF. The final analytic cohort included 749,776 patients (national estimate of 1,421,673) with heart failure and AF. In total, 2,204 patients underwent catheter ablation, compared to 747,572 patients who underwent medical therapy. Patients treated with catheter ablation had lower 30-day readmissions compared to the medical therapy group (16.8% versus 20.1%; p<0.001). In the catheter ablation cohort, 55% of all readmissions were related to cardiac events. Among this group, heart failure (40%) and arrhythmia (36%) were the most common cardiac causes for readmission (Figure 1).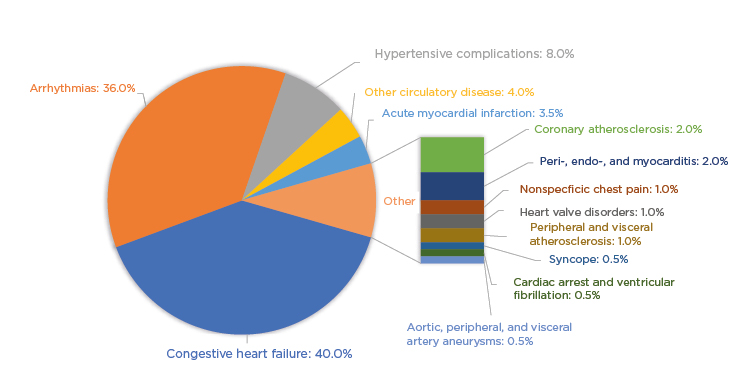 CONCLUSION
In a contemporary nationwide analysis of patients with heart failure and AF, patients treated with catheter ablation for AF compared to medical therapy had fewer 30-day readmissions after discharge from index hospitalisation. Among patients treated with catheter ablation, the most common causes for readmissions were congestive heart failure exacerbation and arrhythmia.